By Sesi Michelle Ademide Zamba, BA (Hons) Advertising, Marketing and Communications student
If you are an international or even local student in Cyprus, here's some facts you may didn't know about this amazing island, Cyprus!
Cyprus is the Island of Love
Legend has it that Aphrodite the Greek goddess of love was born in Cyprus. It's said that she emerged from a rock at what is now known as Aphrodite's beach in Paphos. When waves from the ocean go over the rock, they form foam shapes that some Cypriots say look just like her.
It has a unique capital
Nicosia, the country's capital is divided into two parts: The North which is home to Turkish Cypriots and the South which houses the Greek Cypriots. It is the only divided capital in the world.
Your wishes can be granted
It is believed that a tree that is located near the Christian catacombs in Paphos can make your wishes come true! It is believed that if you tie something to the tree, your wish will be granted. Currently, the tree is in ribbons and handkerchiefs tied to it by many people over the years.
It's full of cats
Cyprus has more cats than humans! The island is overpopulated with cute and fluffy cats, there's even an entire monastery full of them. The Holy Monastery of Saint Nicholas of The Cats in Akrotiri houses hundreds of cats and a few nuns to look after them. The legend says that the cats were originally brought into the monastery to kill venomous snakes that were harassing residents of the island and they apparently still perform that duty to this day.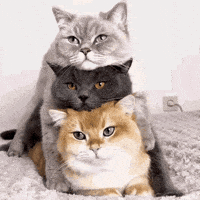 It has a carnival festival
There's an annual carnival held in Limassol every year and it ends with a big parade which features floats and colourfully dressed people. This tradition is more than a century old and it is said to give people the opportunity to express their wishes for a good year!
Mouflon as a national symbol? Yes!
One of the country's national symbols, the mouflon is unique to Cyprus. Mouflon also called "Agrino" is a rare subspecies of wild sheep found only in Cyprus.One herd is located near the Troodos mountains, but they're not often seen by even the locals.